This purpose built equine paradise boasts its own 3 kilometre training track along with 20 acres of bush trails to keep racehorses rejuvenated in a rural setting. Fast work and trials is completed on at the nearby Seymour racecourse, which has recently undergone a $5 million upgrade.
Complete with a private swimming pool, treadmill, horse walker and new 1000 metre uphill training track, all the modern day tools are at our disposal as well as paddocks ranging from one to six acres to place horses in their natural environment. These facilities are not only pivotal to our own breeding stock but helpful in the rejuvenation of older horses.
Mangalore Park boasts a new stable complex featuring rubber lined boxes and day yards and magnificent homestead.
The location of Mangalore Park is ideal for breeding and racing purposes with major stud farms and racecourses all within close proximity. 24 hour on-site supervision is provided by experienced horsemen, committed to your thoroughbreds success.
We invite you to come visit us by appointment if you wish to see what Mangalore Park has to offer your thoroughbred.

I've been a client of Mangalore Park for 10 years, and have no hesitation in recommending this property to lovers of horse racing.

The facilities are first rate and staff super friendly. Above all, management are transparent. I know exactly where my horses are at any stage of their preparation, and I'm always welcome to pay a visit to view my horses.

I'm just a regular owner, but really made to feel a part of the Mangalore Park Racing stable.

Jean-Max Joly
Owner – Mangalore Park Racing
The first-class facilities at Mangalore Park are impressive to say the least. The property owners endeavour to provide the best environment for racehorses to reach their full potential – clearly evident in the investment in infrastructure, equipment and personnel.  
The staff at Mangalore Park, led by Shelley Mangalore Park, are genuine, approachable and dedicated to getting the best out of your racing interests.
Having used other trainers and training facilities in the past, we now exclusively use the Mangalore Park and Mangalore Park Racing for all our syndication needs, and highly recommend the partnership's services.
Rich Stephenson
Syndicate Manager – Late Mail Punters Club

I have found Mangalore Park Racing at Mangalore Park is the perfect place to agist, pre-train and train my thoroughbreds.  
Shelley and her team have spared no expense in building a state-of-the- art facility to cater for happy, fit and healthy horses, no matter what stage of their preparation.  
Having been a client for a number of years, I can personally vouch for the professional facilities and staff at Mangalore Park Racing.
Thomas Lorenzen
Owner – Mangalore Park Racing

Upcoming Runners
Horse
Date
Time
Race
Track
Fields/Form

Acceptances

Khan's Treasure
Dec 01, 2023
08:45 PM
6 - Moonee Valley
Moonee Valley
Field
Latest Results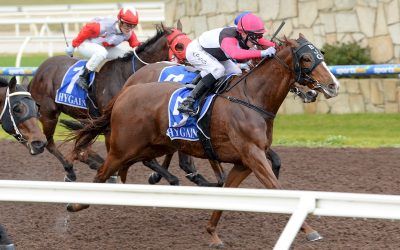 THE Mangalore Park team have enjoyed a third victory in two weeks after Regal Rave swamped on rivals to win at Pakenham on Saturday. A son of Pentire, Nathan Punch extracted a clear passage in the home straight to run away with the second victory of his career. The...
read more
Contact Us
Mangalore Park
750 Seymour-Avenel Road
Mangalore VIC 3663